We will be closed on Monday July 4th.
We will be delivering for Wednesday July 6th, ordering cutoff time will be Tuesday July 5th at 3:00 pm.
Have a Save and Happy 4th of July!
Dillon Floral is a wholesale distributor of floral products and florist supplies located in 
Bloomsburg, Pennsylvania
. Our 
mission
 is to help our florists succeed. Our Number One goal is to give Exceptional Personal Care to each customer order. We do our best to make sure our customers' orders of fresh flowers, greens, plants and floral hard-goods arrive perfectly—every time.
We have been growing and wholesaling flowers for five generations since 1875. We are guided by our own "home-grown" company values. Few realize the logistical complexity and human effort that goes into delivering a commercial flower arrangement to a floral consumer, but most everyone has had their heart lifted by the gift of flowers.
Our Dillon Grown flowers offer a noticeably higher level of vase performance, usability and quality.
Exceptional Personal Care
Our mission is to help our florists succeed. We strive to give Exceptional Personal Care to every customer and every customer order.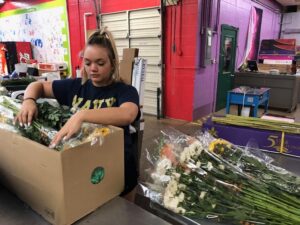 Dillon Floral
Helping florists succeed since 1875.
 Order Lines Open: 9AM-5PM Mon-Fri
570-784-5770
933 Columbia Boulevard, Bloomsburg, PA  17815