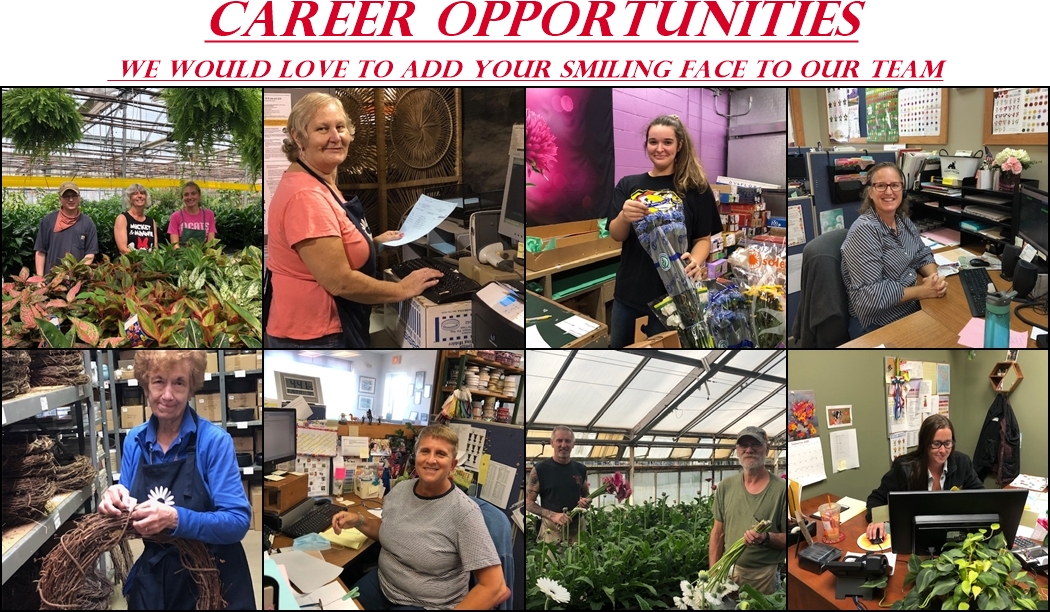 We believe the greatest strength of Dillon Floral is its' Team Members. We are guided by our own "home-grown" company values and our mission is to help our florists and our co-workers succeed.
Here is a partial list of positions that we most frequently hire for:
Fresh Flower Receiver/Order Processor

                                        Now hiring Part time postions….work well as part of a team….enjoy fast paced work environment….would like to work with flowers….detail oriented…. Are good at multi-tasking….able to lift up to 40lbs
Interested? Click here for a full job description and to apply today!
Dish Garden Designer  Now hiring Part time positions….Be creative….Team player….Work in warm environment…..Be able to stand all day….Meet quota when trainedMon. thru Fri. 1 to 6pm (occasionally a little later)Minimal weekend work
Plant Maintenance  Now hiring part time…. Be a team player….willing to learn plant care and maintenance….Greenhouse janitorial duties…. Receiving Plant Shipments…. Packaging plants for shipment
Nighttime Delivery Driver Positions      *Only insurable drivers can be hired
Nighttime delivery driver positions are often available.  The job entails delivering boxes of flowers, florist supplies and plants to retail florists in Pennsylvania and New York State.  Drivers usually work from 7PM to 5AM, two to five times a week.  Drive about 300 miles making 8–14 stops.  We employ both part-time and full-time drivers. Our drivers…

…are extremely trustworthy!
…enjoy working at night.
…are great problem solvers.
…love driving transit vans.
…will drive in the snow.
…don't have CDL's.
…pass drug tests.
…support each other.
…follow safety procedures.
…are very helpful to customers.

If you are interested in working with us, come to our office at 933 Columbia Blvd., Bloomsburg, PA to fill out an application.
Dillon Floral is an equal opportunity employer. We are an at-will employer. Applicants must complete an application of employment before being considered for employment. We are committed to providing a workplace free of discrimination and harassment.
Dillon Floral is a drug-free workplace. All team members and new hires are required to participate in the company's Drug Abuse and Alcohol Misuse Policy and Prevention Plan.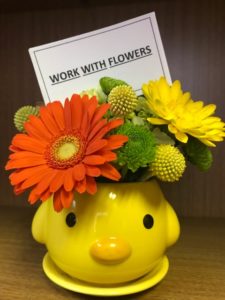 For more information about employment at Dillon Floral:
Contact one of our Leadership Team members.
Call us: 570-784-5770
Fax to: 570-387-8135
Stop in or mail: 933 Columbia Boulevard, Bloomsburg, PA 17815